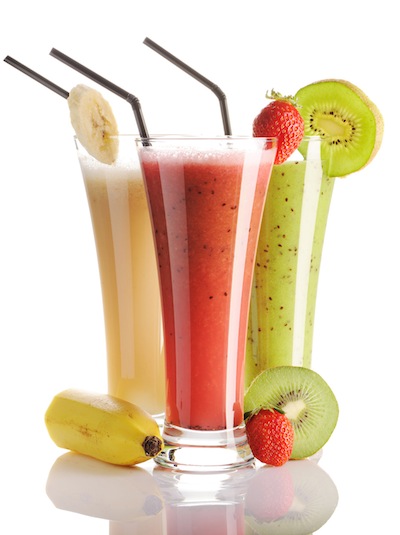 Why are smoothies so popular? Smoothies, made from Caffe D'Vita Vanilla Base Smoothie mix and a blend of fruits, vegetables, and sometimes nuts or dairy, are the latest craze to promise the fountain of youth in a glass.
Inspired by Brazilian pureed fruit drinks, they first appeared in the U.S. in the 1930s, coinciding with the invention of blenders. However, smoothies have long been a part of other cuisines, such as Indian and Middle Eastern. In Morocco, cafés serve "panachés," concoctions that can include milk blended with almonds and bananas.
By the 1960s, smoothies were an established part of macrobiotic vegetarian cuisine. In the 1970s, smoothies made their way to the mall, and the rest is a multi-billion dollar history. At home, anyone with a blender and some Caffe D'Vita Vanilla Base Smoothie mix can make healthy, inexpensive smoothies.
Superfoods" are foods that are rich in phytonutrients. Some are antioxidants, while others contain healthy fats, phytochemicals, or fiber. Blueberries, dark green, leafy vegetables like spinach or kale, and kiwis are among some of the more readily available examples.
In addition to using common ingredients like fruits and vegetables you can also add almond butter and flaxseed. But you don't need exotic superfoods to make a delicious smoothie.
If you are interested in becoming a Caffe D'Vita foodservice distributor, we would be happy to provide you with the resources to market Caffe D'Vita products to your customers.
To contact us, simply click here or call us at 800-200-5005 x315.
Caffe D'Vita's premium foodservice products will exceed your quality and taste standards as our Cappuccino products have for nearly 40 years.
Caffe D'Vita Foodservice Lineup
Blended Iced Coffees
Premium Cappuccino Mix
Fruit Cream Smoothies
Premium Base Mixes
Classic Cream Smoothies
Hot Cocoa
Espresso
Chai Tea Lattes
Iced Cappuccinos
Single Serve Envelopes
Caffe D'Vita Foodservice
800-200-5005 x315
[email protected]
www.caffedvita.com/foodservice.htm
https://www.caffedvita.com/wp-content/uploads/2017/08/Caffe-DVita-Logo-340x156-Website.png
0
0
David Schwartz
https://www.caffedvita.com/wp-content/uploads/2017/08/Caffe-DVita-Logo-340x156-Website.png
David Schwartz
2013-07-16 17:48:09
2020-07-31 09:20:50
Why Are Smoothies So Popular?