Chai Tea Latte – A Healthy Alternative to Coffee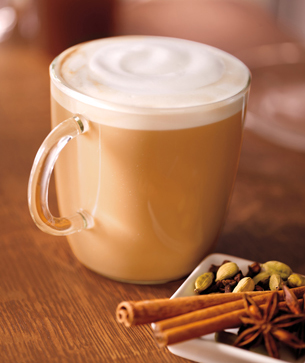 Rain hits the roof, and the cooler sensations of late summer are all around us. It's time to find your favorite cozy corner, light a fire and snuggle up with a hot cup of Caffe D'Vita Chai Tea Latte. Choose from Spiced Tea Latte, Vanilla Tea Latte or Chocolate Tea Latte.
Chai Tea is warming, hydrating and beneficial for your body and soul.
There is also a growing body of evidence showing that the tea in chai has numerous health benefits. Tea polyphenols have been linked in research to increased attention and focus (Theanine), cardiovascular health, protection against Alzheimer's and Parkinson's and even may have the potential to alter cancer genetics. Additionally, the spices in Chai Tea correlate with various health benefits, and have been used for thousands of years.
Chai is mentally clarifying and energizing yet calming at the same time. So chai gives you a subtle "pick me up" without nervousness, jitters. And unlike standard tea, chai tea has substantially more body and flavor so it is an ideal coffee substitute. Also, unlike standard teas, chai tea tends to be stronger and bolder, enhanced by the spices. So it is a natural alternative to coffee substitute.
If you are interested in becoming a Caffe D'Vita foodservice distributor, we would be happy to provide you with the resources to market Caffe D'Vita products to your customers.
To contact us, simply click here or call us at 800-200-5005 x315.
Caffe D'Vita's premium foodservice products will exceed your quality and taste standards as our Cappuccino products have for nearly 40 years.
Caffe D'Vita Foodservice Lineup:
Blended Iced Coffees
Premium Cappuccino Mix
Fruit Cream Smoothies
Premium Base Mixes
Classic Cream Smoothies
Hot Cocoa
Espresso
Chai Tea Lattes
Iced Cappuccinos
Single Serve Envelopes
Caffe D'Vita Foodservice
800-200-5005 x315
[email protected]
www.caffedvita.com
Save
https://www.caffedvita.com/wp-content/uploads/2017/08/Caffe-DVita-Logo-340x156-Website.png
0
0
David Schwartz
https://www.caffedvita.com/wp-content/uploads/2017/08/Caffe-DVita-Logo-340x156-Website.png
David Schwartz
2013-09-10 16:23:10
2016-07-20 14:00:48
Chai Tea Latte – A Healthy Alternative to Coffee