Smoothies – Fuel for an Active Life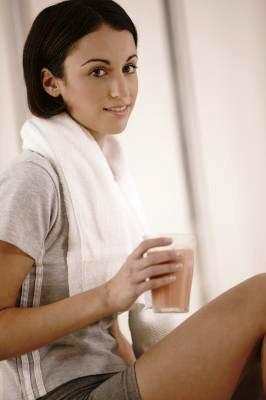 Smoothies are easy to make and can be used in a variety of situations to help meet your energy needs. They also offer a great way to increase your fruit and vegetable servings.

In the summer months there is a large variety of fresh fruit available to experiment with so you can develop many different flavors. Smoothies are generally made with juice and veggies, and fruit blended together. With the addition of Caffe D'Vita Vanilla Smoothie Mix a you can transform your smoothie into a great pre or post exercise drink.
If you work out in the morning or are running late for work, a smoothie can be a quick grab and go breakfast to get you going. Even if you don't feel like eating a smoothie is easy to drink and will provide you with energy for your workout or to start your day. Include some ground flax seeds, bran cereal or ground chia seeds to your smoothie to give a boost of fiber. Combine 1 Tablespoon of Caffe D'Vita Vanilla Smoothie mix, one cup of frozen berries and one tablespoon of ground flax seed for an early morning pick me up.
If you train later in the day a smoothie can be a great snack before you exercise.
A smoothie also digests more quickly than solid foods so you are not uncomfortable while you are active. Try a high carbohydrate smoothie that includes fruit and fruit juice to help power your workout. Blend 1 Tablespoon and half a cup of orange juice with half a cup of low fat milk and half a banana or half a cup of strawberries for an energizing smoothie.
After intense exercise a smoothie can be a simple recovery snack. It provides fluid for hydration, protein to help repair and build muscle and carbohydrates to refuel your muscles. A recovery smoothie with carbohydrates and protein should be consumed within 30 minutes of activity. To make your smoothie higher in protein add low fat Greek yogurt or two tablespoons of natural peanut butter, or half a cup of low fat cottage cheese. A pinch of salt can also be added to help replace the sodium you lost if you tend to sweat a lot.
If you are interested in becoming a Caffe D'Vita foodservice distributor, we would be happy to provide you with the resources to market Caffe D'Vita products to your customers.
To contact us, simply click here or call us at 800-200-5005 x315.
Caffe D'Vita's premium foodservice products will exceed your quality and taste standards as our Cappuccino products have for nearly 40 years.
Caffe D'Vita Foodservice Lineup:
Blended Iced Coffees
Premium Cappuccino Mix
Fruit Cream Smoothies
Premium Base Mixes
Classic Cream Smoothies
Hot Cocoa
Espresso
Chai Tea Lattes
Iced Cappuccinos
Single Serve Envelopes
Caffe D'Vita Foodservice
800-200-5005 x315
[email protected]
www.caffedvita.com/foodservice.htm
https://www.caffedvita.com/wp-content/uploads/2017/08/Caffe-DVita-Logo-340x156-Website.png
0
0
David Schwartz
https://www.caffedvita.com/wp-content/uploads/2017/08/Caffe-DVita-Logo-340x156-Website.png
David Schwartz
2013-08-15 17:25:05
2020-07-31 09:23:20
Smoothies – Fuel for an Active Life