Chai Tea Latte Contains Spices with Many Health Benefits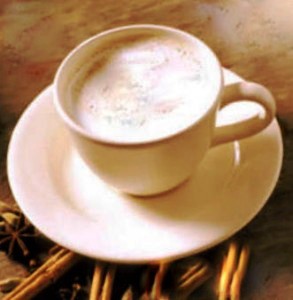 I have been feeling a bit under the weather during the last few weeks, probably because it is freezing here in Boston and I miss the Sun!
Spices are a great remedy to get my energy levels up, and awaken my senses after a dull winter. Time for a deliciously spicy warm drink, it's time for a Caffe D'Vita Chai Tea Latte!
Caffe D'Vita's Chai Tea Latte contains spices that provide a variety of health benefits:
Ginger: I drink a lot of Chai Tea Latte during the cold days when I start to feel fluey. It really boosts the immune system and helps the body to warm up.
Cinnamon: is known to help digestion and boost the immune system and it is a great way to appease my sweet tooth and avoid having too much sugar.
Nutmeg: A rich, hearty spice that has many healing properties, in particular helping with anxiety and insomnia, and with stomach issues: indigestion, vomiting.
Cardamom: is used as an antiseptic, antispasmodic, for digestive disturbances and as a diuretic. Cardamom is a good source of minerals like potassium, calcium, and magnesium.
Cloves: Cloves are a great anti-inflammatory: Some use it for toothache, and it helps to eliminate bacteria and fungi. It also provides relief for respiratory issues and asthma.
If you are interested in becoming a Caffe D'Vita foodservice distributor, we would be happy to provide you with the resources to market Caffe D'Vita products to your customers.
To contact us, simply click here or call us at 800-200-5005 x315.
Caffe D'Vita's premium foodservice products will exceed your quality and taste standards as our Cappuccino products have for nearly 40 years.
Caffe D'Vita Foodservice Lineup
Blended Iced Coffees
Premium Cappuccino Mix
Fruit Cream Smoothies
Premium Base Mixes
Classic Cream Smoothies
Hot Cocoa
Espresso
Chai Tea Lattes
Iced Cappuccinos
Single Serve Envelopes
Caffe D'Vita Foodservice
800-200-5005 x315
[email protected]
www.caffedvita.com
https://www.caffedvita.com/wp-content/uploads/2017/08/Caffe-DVita-Logo-340x156-Website.png
0
0
David Schwartz
https://www.caffedvita.com/wp-content/uploads/2017/08/Caffe-DVita-Logo-340x156-Website.png
David Schwartz
2013-04-08 17:18:08
2016-07-20 14:19:12
Chai Tea Latte Contains Spices with Many Health Benefits