How I Became a Chai Tea Latte Connoisseur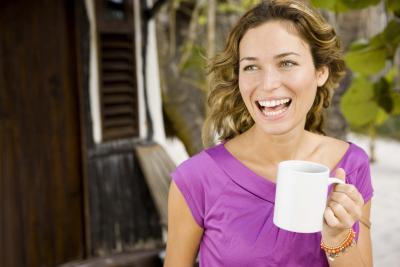 I was never much of a coffee aficionado. When I first started going to coffee houses I would stand frozen and stare at the menu board pretending to be cool. I never knew what I wanted or how to order. Embarrassed for me, friends and family took pity on me and would intervene or share their drinks.
Trying to be independent, I attempted to imitate my peers by mumbling something about a latte and timidly pointing at which cup size I wanted. Through trial and error, Chai Tea Lattes became my drink of choice. The Chai Tea Latte has a bolder taste than a latte and that complements the spice of the tea. Simple enough to order and I love it so much.
Then, drum roll, I discovered Caffe D'Vita and their Chai Tea Latte mix. Caffe D'Vita's Chai Tea Latte mix is wonderfully fragrant and soothing and so easy to make at home.
In its most basic form, Chai is black tea that is brewed strong with a combination of spices and is diluted with milk and sugar. The spices consist of cinnamon, cardamom, cloves, anise seed and ginger. Chai tea is traditionally consumed hot and sweet. The sweetness is needed to bring out the full flavors of the spices. And Caffe D'Vita has taken all the guess work out of the preparation. But, do remember they are terrific in a icy or smoothie form.
If you are interested in becoming a Caffe D'Vita foodservice distributor, we would be happy to provide you with the resources to market Caffe D'Vita products to your customers.
To contact us, simply click here or call us at 800-200-5005 x315.
Caffe D'Vita's premium foodservice products will exceed your quality and taste standards as our Cappuccino products have for nearly 40 years.
Caffe D'Vita Foodservice Lineup
Blended Iced Coffees
Premium Cappuccino Mix
Fruit Cream Smoothies
Premium Base Mixes
Classic Cream Smoothies
Hot Cocoa
Espresso
Chai Tea Lattes
Iced Cappuccinos
Single Serve Envelopes
Caffe D'Vita Foodservice
800-200-5005 x315
[email protected]
www.caffedvita.com
Save
Save
https://www.caffedvita.com/wp-content/uploads/2013/04/chai_spiced_canister.jpg
800
800
David Schwartz
https://www.caffedvita.com/wp-content/uploads/2017/08/Caffe-DVita-Logo-340x156-Website.png
David Schwartz
2013-04-23 17:44:00
2016-07-20 14:13:04
How I Became a Chai Tea Latte Connoisseur